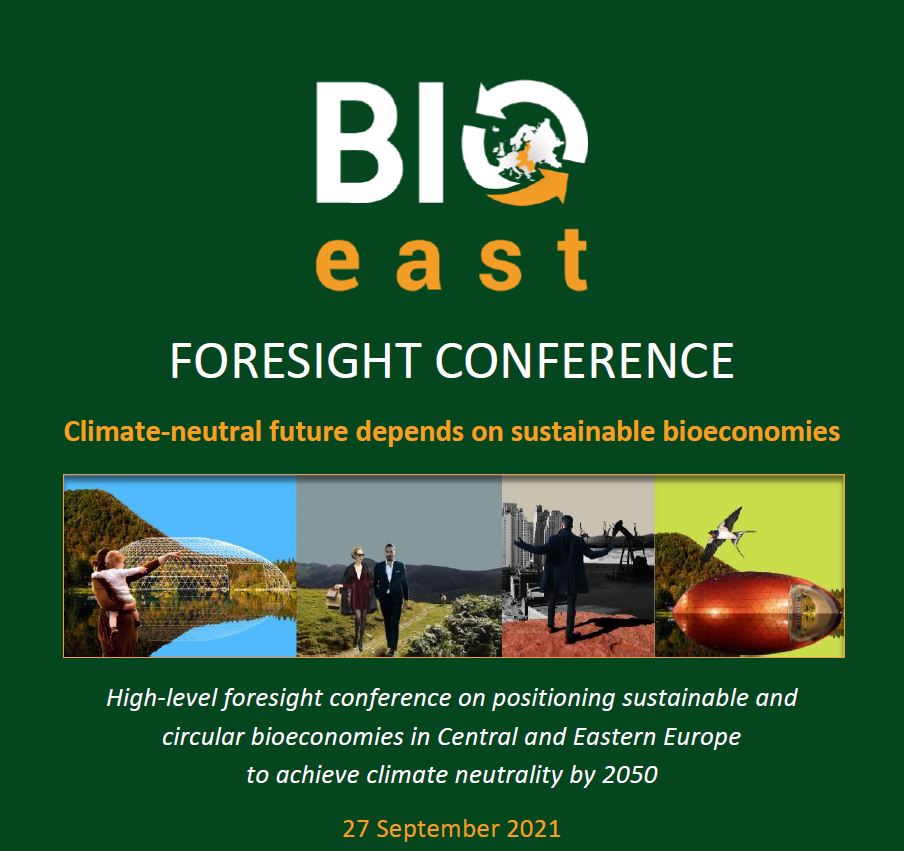 BIOEAST Foresight Conference – Climate-neutral future depends on sustainable bioeconomies
The high-level BIOEAST Foresight Conference on positioning sustainable and circular bioeconomies in Central and Eastern Europe to achieve climate neutrality by 2050 was organised on 27 September 2021 under the auspices of the Slovenian EU Council and the Hungarian Visegrad Group presidencies.
The main topic of the event was the Foresight Study on future development paths, in which experts outlined four distinctly different scenarios and their impacts up to 2050, whether the economy will continue to be based on the use of fossil resources in the future, with its negative environmental impacts, or the region will be able to transform. Moreover, the conference aimed to bring further the findings of the Foresight Report and to debate about priorities in seven thematic areas: a) agroecology, b) food systems, c) forestry, d) fresh water, e) biochemical and biomaterials, f) bioenergy, and g) research, education and skills.
The high-level conference was opened by the Slovenian Minister of Agriculture Mr. Jože Podgoršek, followed by welcoming speeches by the Minister of Agriculture Mr. István Nagy and Ms. Mariya Gabriel, European Commissioner for Innovation, Research, Culture, Education and Youth, who welcomed the nearly 200 participants. After the ministerial greetings, Ms. Ladeja Godina Košir, chair of the Foresight Expert Group, presented the BIOEAST Foresight Exercise, followed by a panel discussion with the four experts.
As a result of the Foresight Conference in addition to the Foresight Study, the Reflection Paper prepared by the BIOEAST Advisory Council and the Position Paper approved by the 11 Ministries were presented.
The conference presentations and documents are available at the following links:
BIOEAST Foresight Conference Conclusions – final
1st Session: Transformation: what the report says?
2nd Session: Resilience: how to adapt the policies?
Parallel thematic sessions: Internalization – How to bring forward the findings?
2021_08_flyer_StakeholderPlatform_VRT
BIOEAST Advisory Concil reflection 2021
BIOEAST Foresight Conference 27.9.2021 – final programme
BIOEAST Foresight Conference Concept Note final
BIOEAST Foresight Position Paper 2021
BIOeast-Report-2021_FINAL_compressed
Deploying the Bioeconomy in the EU_ A framework approach for bioeconomy strategy development_Expert Report
Deploying the Bioeconomy in the EU_ A framework approach for bioeconomy strategy development_Policy brief