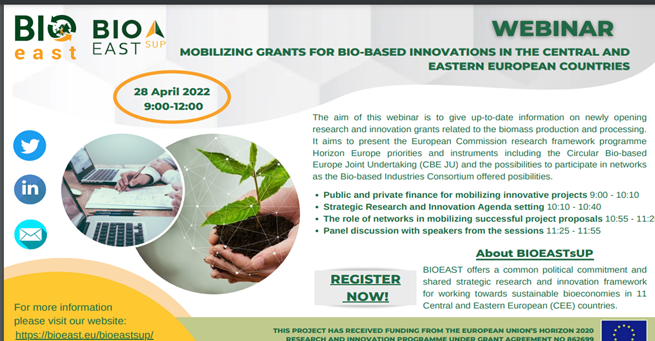 WEBINAR ON MOBILIZING GRANTS FOR BIO-BASED INNOVATIONS IN THE CENTRAL AND EASTERN EUROPEAN COUNTRIES 28 APR 2022 9:00-12:00 (CET)
The aim of the webinar is to give up-to-date information on newly opening research and innovation
grants related to the biomass production and processing. With a special attention on the industry lead
investments in research and innovation it aims to present the European Commission's research
framework programme Horizon Europe priorities and instruments, including the newly formed Circular
Bio-based Europe Joint Undertaking (CBE JU). One specific objective is to draw attention to the
bottlenecks of the current system and to highlight the possibilities for the Central and Eastern
European market actors participating in existing networks on a local and regional level including the
Bio-based Industries Consortium's offered possibilities.
Second in a row, after the successful webinar organized on 15 November 2021 on financing
instruments of European Circular Bioeconomy Fund (ECBF), European Investment Bank (EIB) and
European Bank of Reconstruction and Development (EBRD), this webinar aims to bring into attention
the grants to steer private investments into bioeconomy related research and innovation.
The BIOEAST Initiative with the help of BIOEASTsUP H2020 project under the patronage of the
Hungarian Visegrad Group Presidency organizes the webinar and panel discussion on funding
opportunities. It targets the potential beneficiaries by engaging key stakeholders from different
bioeconomy sectors of the BIOEAST macro-region as well as the policy makers, public (ministries,
agencies, and offices), local and regional authorities.
BIOEAST_28042022_final_agenda (2)
BIOEAST Intro to BIC 28 April 2022 _Marco_Rupp_1
BIC colloboration with the regions – 28 April 2022_Marco_Rupp_2
Bioeast event 280422 – Tomasz_Calikowski
BIOEAST_TWG_BC_pres_final_Muriel_Biljana